| | |
| --- | --- |
| Posted on December 23, 2013 at 1:15 PM | |
Estimate of 8,985 dogs were euthanized between 1st April 2012 to 31st March 2013 in the UK. It's abundantly clear we have a major issue of unwanted dogs. Important factors in this are a lot of irresponsible back yard breeders, humans being uncommitted to their dog and potential dog owners overlooking rescue dogs. The purpose of this blog is to help people be aware of this crisis and how to make better educated decisions in the future.
The following is taken from Dogs Trust stray dog survey 2013 –
http://www.dogstrust.org.uk/az/s/straydogsurvey/straydog2013.pdf
"This year 7,319 stray dogs were reported as having been put to sleep by authorities taking part in this survey. From this figure we can estimate that approximately 8,985 dogs were put to sleep across the UK during the period of 1st April 2012 to 31st March 2013. Amongst the authorities responding, details were given for around half of reported destructions"
"It was reported that 2,190 dogs were put to sleep due to behavioural problems or aggression, 983 due to ill health, and 537 under the Dangerous Dogs Act"
I would firstly like to point out the difference between reputable breeder and a backyard breeder. After, recently meeting a reputable breeder I was very impressed by their standards. I had a lot of questions but they had just as many for me. First and most important attribute they use to benchmark when deciding to use a dog to breed is temperament, followed by physical appearance of the particular breed (size, tail, coat, markings etc). I am in complete agreement with the first attribute, it's essential, but I've never been too interested in physical appearance. However, now in reflection how else will we keep a recognized breed, so many dogs have now changed in physical appearance from their history. Finally the breeder informed me that they will only breed when they have a full booking list for all available puppies. Do you think someone who has just decided to chance breeding their dog would be as scrupulous or has thought about whether their dog has a good temperament or the dog it will be mating with, never mind where the puppies are going to go. So why would the average person breed their dog? Surely this is contributing to the already overpopulation of dogs in the UK. An all too common approach with some owners is insisting on mating their dog or bitch. The most common reasons tend to be they feel it is necessary to fulfil some part of their dog's life which is usually the mask for finical greed. It seems with an easy access to "how to" websites and online videos more amateurs are ready to do this with no necessity or experience. People buying puppies from these back yard breeders are encouraging these people to continue their irresponsible behaviour. You're likely to find these dogs advertised online for a fee matching that of a reputable breeder with no justification. A breeder with a conscious would be asking you as many questions as you should have for them, want to show you the parents (lines of heritage etc) and want to meet you & your family several times. Please if you are adamant on getting a puppy I would always recommend contacting a rescue or go to a reputable breeder. While discussing temperament with the breeder I met we started discussing inappropriate human behaviour towards dogs. I was told a story of a family who had paid a deposit for a pup and they were down visiting. The breeder warned the parents of their children's inappropriate behaviour towards the puppies and asked them to get them to stop. The parents ignored the request. Then, after disregarding the breeder's plea for the second time, the breeder advised them to leave, handed their desposit back and refused to sell them a puppy.This leads me to my next segment, humans behaving inappropriately and being uncommitted to their dog
Whether you have adopted or bought a puppy home you should be aware of the commitment necessary in caring for your dog, it should be for life. Estimated average lifespan of a dog according to a study for dogs based in England is 12yrs.
http://www.ncbi.nlm.nih.gov/pubmed/24206631
However please be aware different breeds have different life expectancies. The most important aspect before making the commitment is selecting the correct energy and breed of dog to suit your lifestyle. Plan from the initial stage of getting a dog – do you have someone to care for the dog if you are ill or on holiday? Are you able to provide sufficient daily exercise? Can you commit finically, costs of feeding, vet bills, insurance, etc. Giving clear boundaries and instructions from the start of your relationship is vital and prevents so many unwanted behaviours. Some people will baby the puppy or dog once they are home, which is one of the main reasons in developing behavioural issues in dogs. Example would be someone who does not give the puppy or dog time on their own, allows the dog to follow them around the house, constantly be in your personal space and takes the dog to bed with them. Some people would deem this affection however this is unhealthy and will ultimately result in the dog being dependant on you leading to separation anxiety. If you truly care for your dog you want your dog to be relaxed in their own space, this is often overlooked by so many owners especially with puppies. What you permit a dog to do one day soon becomes a habit. The more consistent an owner is in providing rules the more the dog understands how to behave in situations. Its your respondibilty to teach your dog how to behave socially for their own safety.
Rescuing a dog not only helps the dog but gives you and your family the education and pride from helping an animal in need. The picture below is a before and after photo of one of my own dogs Hugo, who we rescued.The effects of stress caused by living in kennels can be viewed in Hugos pictures, as show below.
                                  Hugo on Day 1                                                          Hugo after 9 months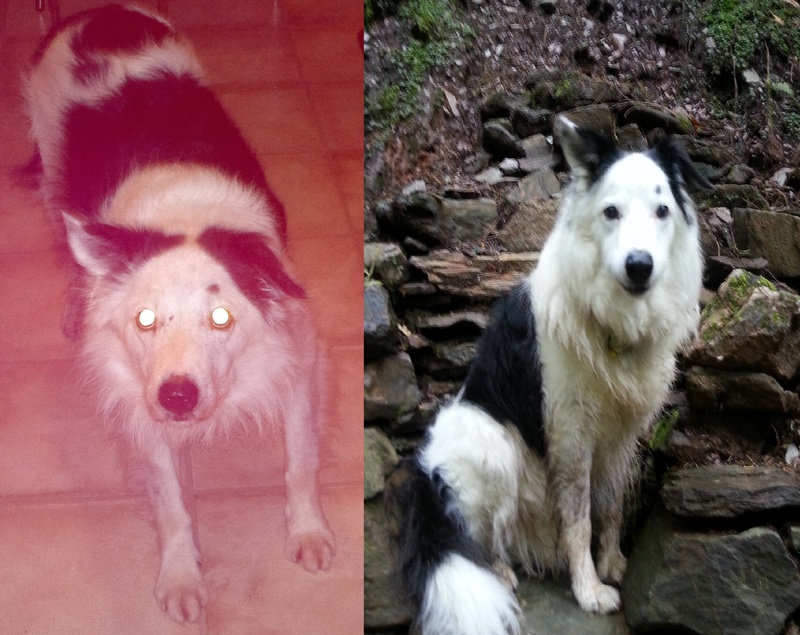 I'm a massive supporter of rescue dogs but so many people overlook them as used or damaged. I like to think of them as experienced which can certainly be a big positive for any dog owner. Especially for the older dogs, they can be the best suited dogs for people with busier lives or first time dog owners. Having adopted four dogs of varying ages from four different rescues I recommend it for anyone looking for a family pet. Yes you can get difficult dogs in rescue but all responsible rescues will only match you to a dog that is suited to your ownership experience and lifestyle. You also get the opportunity to help make a difference to a dog who's future is in a kennel or possibly worse. I opted to take more challenging dogs from the rescues as a personal journey which has taught me so much in training dogs. Kennels can be a highly traumatic environment for a dog to live and most dogs are even better behaved when given a less stressful home. Rescues I support and work with have fosterer programs allowing dogs to be in a home environment before finding their forever home. I would like to thank on behalf of the dog all those who work tirelessly, unpaid and fully committed within these rescues. Majority of rescues in the UK neuter, vaccinate and microchip the dog already before you take the dog home.
Please be part of the solution, help to educate others and stop the overpopulation which results in so many unnecessary killing of dogs. With a population that does not fully comprehend the mass unnecessary killing of dogs I fully support neutering in the UK.
Derek Bryson
Paws for Walkies
Quote from reputable breeder, Janet -
"I agree totally, if people are able to take a rescue dog on they will be given so much love back in return, I rescued and old Rottweiler from Dogs Trust in West Calder many years ago, his family had him for 8 years and had just grown tired of him, too much bother, wanted to go holidaying abroad etc. he was a stroppy old git, but would have given his life for me. I had him until he was 13 and still miss him."
"I also feel very strongly about breed rescue, if EVERY breeder took responsibility for their breeding we would have no need for breed rescue."
Quote from Any Dog il Do Rescue founder, Suzanne -
"What I think would really start to help make a difference to back door breeding is if private landlords, housing associations and councils were to add a section about breeding under 'keeping pets' in the tenancy agreement. If it were to be that dogs have to be neutered and not bred from with proof supplied by a vet that the dog has been neutered then this would really reduce the number of litters being born in the UK each year."
 One council in England already supports Suzannes view and has impleneted the following policy
http://www.stroud.gov.uk/info/foidocs/2144/pet_policy.pdf
"I'm aware that for anyone on benefits they should be declaring 'any profit made from breeding' as a source of income and but how many are not declaring it? and how many people are actually penalised for doing it? Its definitely something that needs to be monitored more."
If you are interested in volunteering, fostering or adopting a dog please contact a local rescue for more information and for anyone in Scotland please follow the links below
http://www.anydogildorescue.org/                                   http://www.staffiesmilesrescue.com/
Categories: None
/